Fudgy Vegan Chocolate Banana Bread
Today when I went online to look at a Facebook page full of yummy vegan recipes for chocolate banana bread, I came across not one, but THREE terrific recipes. I chose the one with the most ingredients in the house to bake, but it is quite likely I will refer back here to try the other two at some point (a good reason to be a food blogger!). Hope you find one of these recipes meets all your criteria for deliciousness and whatever other factors are built in to your baking: budget? ingredients on-hand? allergies? gluten issues?
NEW!! Just added another version of chocolate banana cake (raspberry-carob or frozen grape-carob) at the bottom of this post! So-- possibly 4 or 5 recipes to choose from! Let me know about your variations!
#1. The first banana bread recipe
, the one that I actually baked, is quite likely going to be the easiest one to choose if you have a gluten sensitivity and have oatmeal, almond flour, and cocoa hanging out already in your cupboard.
The list of ingredients also includes
: ripe bananas, coconut sugar, baking powder, nondairy milk, coconut oil (or your preferred oil), and either ground flax seed or ground chia seed for the "egg".
#2 Recipe for Chocolate Banana Bread
(called Cake in this recipe) is made with maida flour, or regular all purpose wheat flour. You can tell from the recipe demo in the video that there is a lot of energetic gluten, making for a springier cake than you generally find with the gluten-free flours, such as the oatmeal and almond flour in #1 recipe, above. I guess it will depend on whether or not you are sensitive to gluten in whether you try this particular recipe. Take a look. All the ingredients and baking instructions are nicely listed as the recipe plays out. This recipe uses a little vinegar and both baking powder and baking soda for leavening.
This is what it looked like when I baked it (trying the raw banana slices on top-- like it!)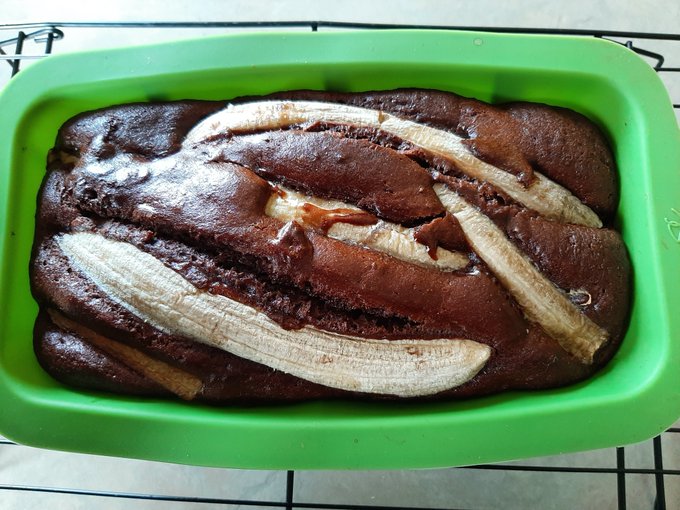 and the RECIPE for #2 Chocolate Banana Bread:
#3 Recipe is for a Chocolate Oat-Banana Bread from that.veganbabe on Instagram:
Here is the added recipe for the Frozen raspberry or frozen grape chocolate banana cake:
INGREDIENTS
(substitute frozen grapes or blueberries, etc. for what you desire/have on hand)
2 ripe bananas, chopped,
3/4 cup organic cane sugar,
1/4 cup oil,
1 teaspoon vinegar,
1 teaspoon vanilla,
1 1/2 cups spelt flour,
1/4 cup cacao powder,
1/4 cup raw carob powder/flour,
1 teaspoon baking powder,
1/4 teaspoon baking soda,
1/4 teaspoon sea salt,
1/2 cup water (or coconut water)
Chopped walnuts
Frozen raspberries or green grapes (or other berries)
‐----------------------------------
1. Blend bananas and sugar and pour in large bowl.
2. Whisk in oil, vinegar and vanilla until perfect consistency
3. Put sieve on bowl and add flour, cacao, carob, baking powder, baking soda salt, pressing through with no lumps
4. Add in water and quickly stir, cut, fold until smooth like thick cake batter
5. Add walnuts and raspberries (or grapes, etc.)
6. Spoon into loaf pan and bake in 350F oven until inserted toothpick comes out clean-- about 40 minutes
7. Cool completely on rack until totally cool. Cut thick slices to serve